Universal Cutting Automat
Type C 095
for taped radial components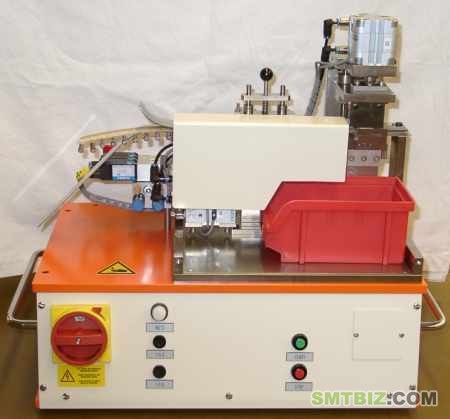 Components


Specification
- dimensions
500 mm x 400 mm x 450 mm
- weight
approx. 20 kg
- electrical
230 V / 50 Hz / 110 W
- control
Siemens SPS "LOGO"
- pneumatic
6 bar
- pitch
min: 2,5 mm, max.: 10 mm
- tape holepitch
12,7 mm and 15 mm
- lead Ø
0,4 mm to 0,8 mm
- components
taped
- delivery
reel or ammopack
- rate
max. 5.000 pcs/hr

Description:

The Automat C 095 was especially developed for the rational cutting of taped radial components.

Supplyment of components is done exclusive over reels. Therefore the Automat has a combined survey. Because the C094 only accepts components on tape, either reeled or ammo pack formats are acceptable. Also because of its flexibility, the C095 allows the processing of components taped on 12.7 mm and 15 mm spacing by using easy to change tape guides and tools.

Options:
electronic counter, which cuts off the Automat automatically when the pre-defined number of items is reached.