Universal Cutting- and Forming Automat
Type C 092
for taped radial components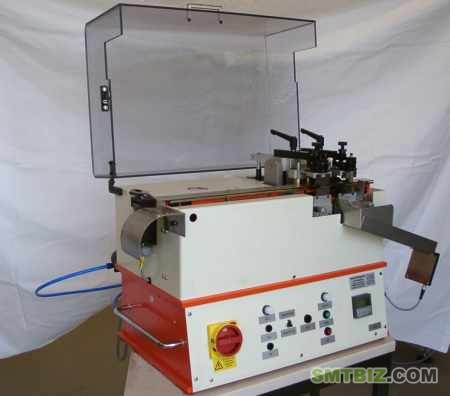 Components








Specification
- dimensions
650 mm x 450 mm x 500 mm
- weight
approx. 35 kg
- electrical
230 V / 50 Hz / 110 W
- control
Siemens SPS "LOGO"
- pneumatic
6 bar
- pitch
min: 2,5 mm, max.: form dependend
- holepitch
12,7 mm and 15 mm
- lead Ø
0,4 to 1,0 mm
- components
taped
- delivery
reel or ammopack
- rate
with touching max. 4.200 pcs/hr
without touching max. 6.300 pcs/hr

Description:

The Burst & Zick GmbH model C 092 has been developed to process taped components with holepitches of 12.7 mm and 15 mm with one machine. To eliminate any kind of inconsistencies due to variances in taping, this machine is fitted with a touch-tool that will verify the cut length.

The machine was developed with two processing units for multiple die sets. The die inserts can be exchanged very quickly. Because of the dual processing-units a wide range of bending and stamping forms can be processed.

Options:

roll-off block for all in trade reels
electronic counter, which cuts off the Automat automatically when the pre-defined number of items is reached.