Cutting and Forming Center Type C 069 S
for Powertransistors TO 126, TO 127, TO 218, TO 220
and similar components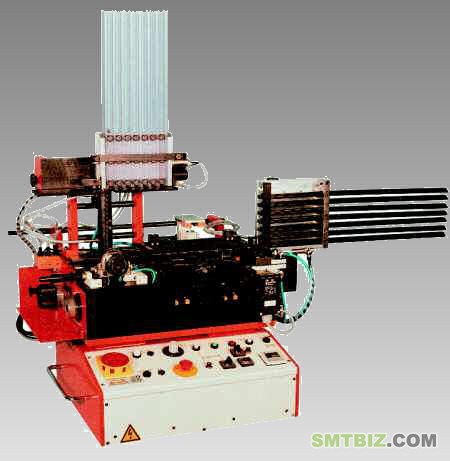 Components











Specification
- dimension
base machine: 600 x 600 x 450 mm
hole plant: 1200 x 600 x 600 mm
- weight
approx. 60 kg
- electrical
230 V / 50 Hz / 250 W
- compressed air
6 bar
- model
double-processing unit (forming upwards and downwards is possible)
- pitch
2,5 mm and others
- lead Ø
any
- operation
by engine (continuously variable)
- components
delivery: sticks or loose
outgoing: stick or loose in a bin
- production rate
3.500 pcs/hr
- No. Cassettes
2 pieces
- No. of sticks
per cassette - standard 8, optionally 12
in charging hopper - standard 8, optionally 12

Description:

The Burst & Zick Machine Type C 069 S is designed to process power transistors of the types TO 126 and TO 220 and others for vertical or horizontal mounting. Basicly components with up to 23 leads can be processed (more leads on inquiry).

The machine C 069 S processes power transistors automatically from sticks. The standard cassette is equipped for 8 sticks. The processed components are sorted itno an empty stick in the filling device.

The machine is prepared to keep 2 tool-blocks. One unit performs upward formings and the other performs downward formings. Each tool-block can keep two forming sets or cutting sets.