Cutting and Forming Machine Type C 069
for Powertransistors TO 126, TO 127, TO 218, TO 220
and similar components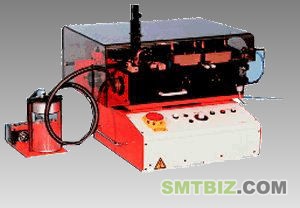 Components








Specification
- dimension
600 x 600 x 450 mm
- weight
approx. 40 kg
- electrical
230 V / 50 Hz / 200 W
- compressed air
6 bar
- model
tool double-station (bending up and down at the same time)
- pitch
2,5 mm and others
- lead Ø
any
- operation
engine (continuously variable)
- components
Sticks or loose
- production rate
3.500 pcs/hr

Description:

Cutting and Forming Machine for horizontal & vertical Mounting and tube to tube feeding.

The cutting and forming machine Type C 069 is designed to cut and form components with 3 up to 23 leads for vertical or horizontal mounting.

The feed magazines and die sets are modular in design to allow quick set up changes. All cutting and forming parameters are manufactured to customer specification.