Cutting and Forming Machine Type C 068
for Powertransistors TO 126, TO 127, TO 220
and similar components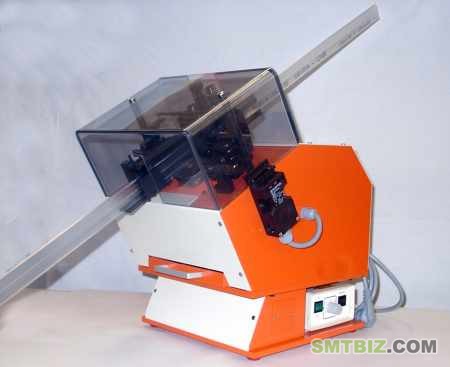 Components







Specification
- dimension
1100 x 550 x 500 mm
- weight
approx. 20 kg
- electrical
230 V / 50 Hz / 110 W
- pitch
2,5 mm and others
- lead Ø
any
- operation
by engine (continuously variable)
- components
loose or sticks
- production rate
3.500 pcs/hr

Description:

The Burst & Zick machine Type C 068 is designed to process power transistors of types TO 18, TO 92, TO 126, TO 127 and TO 220 with 3 or more radial leads. Also different components (e.g. LED's) can be processed, which fit into the supply-shaft of the machine.

The operation of the machine is restricted on filling up the exchangeable feed magazine with components to be processed. After the processing action the components are then desposited into a second tube for collection.

The tools are equipped with strain relief-valves to eliminate stress to the component body, when the leads are bend and cut. once formed and cut the component is stored in a collection bin, seperated from shavings.

The tool-change for different forms takes only about 2 minutes.