Cutting and Forming Device Type C 067
for Powertransistors TO 126, TO 127, TO 220
and similar components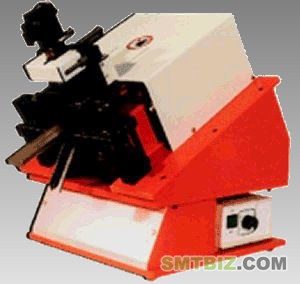 Components






Specification
- dimension
500 x 350 x 400 mm
- weight
approx. 20 kg
- electrical
230 V / 50 Hz / 110 W
- pitch
2,5 mm and other
- lead Ø
any lead Ø of power transistors
- operation
by engine (continuously variable)
- components
loose or stick
- production rate
3.500 pcs/hr
- Optional
supply of components via round conveyor

Description:

The Burst & Zick machine Type C 067 is designed to process power transistors of types TO 18, TO 92, TO 126, TO 127 and TO 220 with 3 or more radial leads. Also different components (e.g. LED's) can be processed, which fit into the supply-shaft of the machine.

The operation of the machine is restricted on filling up the exchangeable feed magazine with components to be processed. Optionally the machine can be equipped with a round-conveyor, to supply loose components automatically to the machine for processing.

The tools are equipped with strain relief-valves to eliminate stress to the component body, when the leads are bend and cut. once formed and cut the component is stored in a collection bin, seperated from shavings.
The tool-change for different forms takes less than 5 minutes.